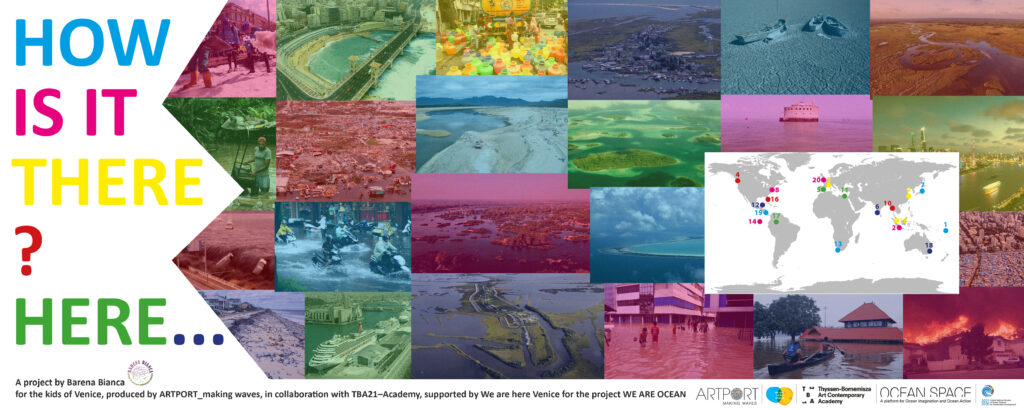 "How is it there? Here…", part of the global program WE ARE OCEAN, is a critical geography workshop for the kids of Venice and for anyone around the world living with similar issues, such as environmental degradation of wetlands and growing pollution levels in both the air and the water, coastal erosion, subsidence and increasingly devastating floods. Irresponsible tourism development, depopulation of cities and lack of housing policies may also be of mutual interest. This is an invitation to care about each other, to think of our planet from the perspective of common threats and the potential to share solutions, rather than divide it into tiny clusters that compete with each other. It is developed by artist collective Barena Bianca as venetian iteration of the international project WE ARE OCEAN, commissioned and produced by ARTPORT_making waves with scientific support from We are here Venice and in collaboration with TBA21–Academy. The central focus is to send a message connecting apperently faraway places: talking about our home can mean also talking about a place on the other side of the world, if the threats we face are the same.
The workshop, re-formatted to function in the current situation of the pandemic, is centered around mail art: participants are invited to send a letter to Venice – or from Venice to a chosen place, somewhere else – describing why they care about their place, why they are worried about it, and the hopes and dreams they might have in connection to it, creating a connection between the place where they write from and they write to. The content is free to choose: a text, an image, some light items such as a branch, grains of sand, small rocks. Or even all of these together!
The instructions are simple, and one can participate either physically or digitally: fill the envelope with whatever you need to express yourself, and mail it to our studio (address below). If the postal service is problematic, for any reason, material and thoughts can be sent digitally, scanned, combined with photographs and even sounds or music, then they can be posted directly sent to our email address provided down here. 
The contributions – pending consent by the authors – will then be presented on an interactive digital map that is accessible on THIS WEBSITE and on Ocean Archive, developed in collaboration with artist Donato Spinelli, and used in the context of a specific workshop developed with 17-year-old students at Liceo Scientifico Benedetti Tommaseo, with the scientific assistance of botanic expert Lorenzo Bonometto and the support of CNR-ISMAR, which will host the final event. 
In return, a personalized artist postcard developed by Barena Bianca will be sent to all of those participating, together with our deepest friendship and gratitude.
Letters can be sent to:
We are here Venice
Cannaregio 6154
30121
Venezia, Italia
Digital material via e-mail to:
collettivobarenabianca@gmail.com
To receive our postcard or an answer from the kids, and see your contribution on our online map and in the final exhibition, please fill in THIS FORM and send it via email to the address above.